This well-produced but flawed bio/war/drama follows the armed forces career and subsequent malaise of ex-Navy Seal Chris Kyle. He was a legendary sniper who did four tours of duty in Iraq. His steely, icy demeanor gave him a steady aim, but didn't protect him from the fragile aftermath of war, particularly Post Traumatic Stress Disorder (PTSD). The film fluctuates between his achievements in battle and his ordeal back at home.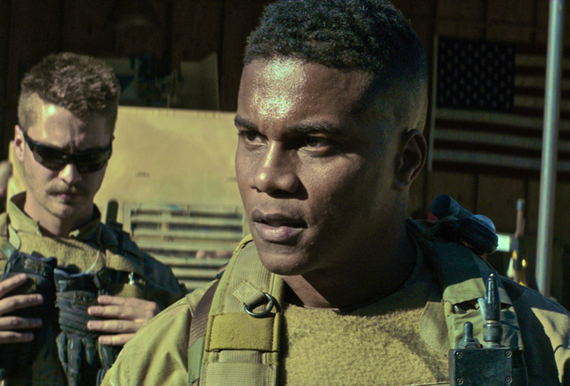 (Photo courtesy of Warner Bros. Pictures)
Luke Grimes and Cory Hardrict play young G.I. s in the war drama American Sniper.
Telling Kyle's story is the purview of filmmaker Clint Eastwood who directed Flags of Our Fathers and Letters From Iwo Jima, and is well-acquainted with the war film genre. As was the case with those aforementioned films, Eastwood's style is never climactic. He prefers a moderate pace and a straightforward style that doesn't add anything new to the game. Helicopters buzz over Iraq. Soldiers on both sides of the battle are killed. But nothing stands out and everything appears routine, considering it's war. The proceedings lack the verve and staccato pacing that made Katherine Bigelow's Zero Dark Thirty a jaw-dropping experience. His languishing, overly choreographed and pat approach makes the footage feel flat and undistinguished.
After a grueling training, Chris Kyle (Bradley Cooper) becomes a Navy Seal sniper. A sharp shooter as a kid, his skill peaks in Iraq where, he can protect platoons by accurately shooting a hostile target from as far away as a football field. Deadeye? The man kills 160 insurgents. When fellow soldiers praise him, Kyle is never less then humble. His subdued demeanor is the exact opposite of the anger and rage he incites from enemy forces who put a price on his head. No wonder they call him "Legend."
Kyle's Navy Seals, who've teamed up with brave Marines, find something to focus on in the helter skelter war. It's the demonic Al Qaeda terrorist Abu Musab al-Zarqawi and his maniacal partner The Butcher (Mido Hamada); the latter tortures victims and snitches with power drills. As Kyle and his crew hone in on the new enemies, a sharpshooter, whose talents rival Kyle's, scopes them out. Mustafa (Sammy Sheik), a Syrian sniper, has Kyle and his men in his crosshairs. First one to pull the trigger wins.
The script by Jason Hall, based on the bestselling autobiography by the real Chris Kyle with Scott McEwen and Jim DeFelice, has plenty of slow, forward motion. When things get too tense, the plotline throws in a flashback for relief. Kyle meeting his soon-to-be-wife Taya (Sienna Miller) in a bar, trips back home on leave, the birth of two sons, phone calls from the front lines; these mini-scenes flesh out the imperfect human man behind the perfect aim — to varied affect. You get a vague sense of the soul of this heroic soldier who tries to balance a dangerous existence with an infrequent family life. But it's hard to feel compassion for him. He's too…