Entertainment
'Country Nation World Tour' Kicks Off in Morgantown, W.Va.
Folks in West Virginia find it easy to support Paisley because he's what we call "good people." He's someone you would trust to watch your home while you're on vacation, or take your child to the hospital in an emergency, or — even more important, here in the Mountain State — borrow your hunting dog for a day in the woods.
Paisley is a West Virginian through and through, and is definitely proud of being from this region of Appalachia. He kicked off the final leg of his "Country Nation World Tour" at the WVU Coliseum in Morgantown, W.Va., because the area just north of there where he grew up, in "Wheeling and Moundsville, is a very rich musical place." It is, after all, home to the Jamboree, "the second most famous old-time radio country show," Paisley said.
West Virginia residents were as thrilled to have Paisley back in town as he was to be here. People here are not just fans. They are rabid fans. They love Brad Paisley. That's because Paisley loves people. You sense this when he performs, but after meeting him in person, you realize it's not a performance — that wholesome goodness and warmhearted nature is not an act. It is simply who Brad Paisley is.
He is, in short, authentic. When he sees people, he really sees them. He doesn't just give them a cursory glance. Not only did he thank the media for coming to talk to him before Saturday night's show, Paisley also posed for a photo with each person there.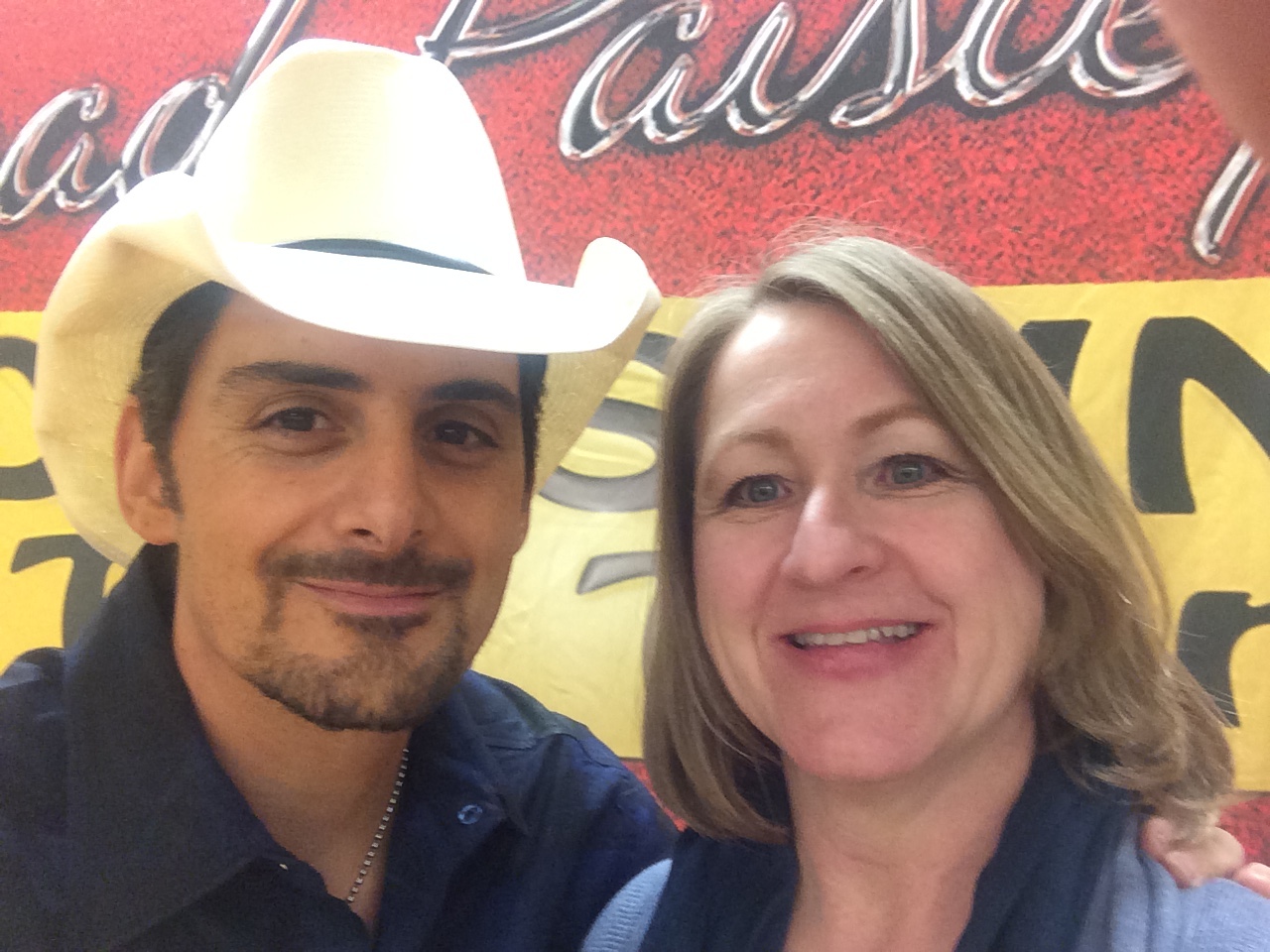 Friday night's show opened with The SWON Brothers and Parmalee, but the audience was clearly waiting for Paisley–especially one little girl in the pit who looked to be four or so. Perched on her father's shoulders, she had a neon pink sign, which Paisley held up so the camera could pan it for the audience. It read, "This is my first concert." Paisley promptly handed her his signed guitar.
It didn't seem possible Saturday's show could be any better than the night before, but it was. There was the same high level of energy, the same videos playing on the Jumbotron, and the same selfies he took, but with different fans.
That night, Paisley read another sign from someone in the audience. Then he invited the man and his girlfriend onto the stage. After asking their names — which he announced as Craig and Alicia — Paisley told them to dance, as he serenaded them with the love song, "Then."
In the middle of the song, Paisley stopped and told Craig to do what he planned, and as Craig got down on one knee, a collective gasp of delight was heard throughout the Coliseum. The camera zoomed in, showing Craig opening a black velvet box, then placing a ring on Alicia's finger. It was, for every audience member there, like a dream come true. Where else would you see such a romantic moment but at a Brad Paisley concert?