A small child stands in the bus station looking lost, holding a plastic bag with a few belongings, and hoping to be welcomed and find a home in this country. This was the scene a few months ago in Arizona and Texas when hundreds of undocumented children, some with their mothers, others alone, traveled from Central America and crossed the U.S.-Mexico border looking for a safer and better life.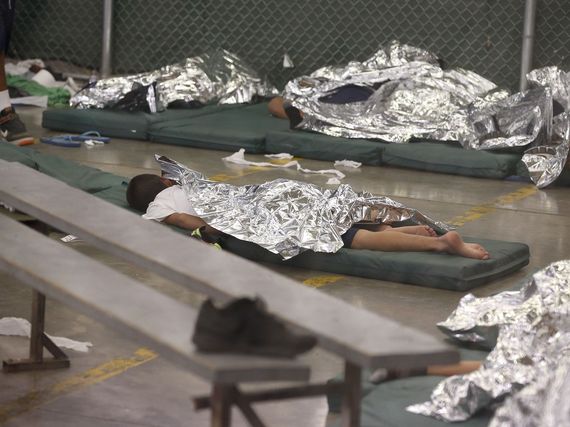 Central American children detained in Nogales, Arizona in 2014
This weekend moviegoers can see a small brown bear standing alone on a train station with his cardboard suitcase, also looking for kindness and a place to call home. Children will fall in love with Paddington bear, a migrant without papers who adores marmalade sandwiches and hides away on a boat to travel from his home in Peru to London hoping for a better life. Having lost his parents in a natural disaster, his aunt, too frail to care for him, suggests he travel to England. Years before, a British explorer taught the bears English and to love marmalade, and said they would be very welcome in his country. When the little bear arrives at Paddington station in London (his Peruvian name apparently unpronounceable he takes the name of the station), he sees a family heading home and, in desperation, steps forward to ask for help.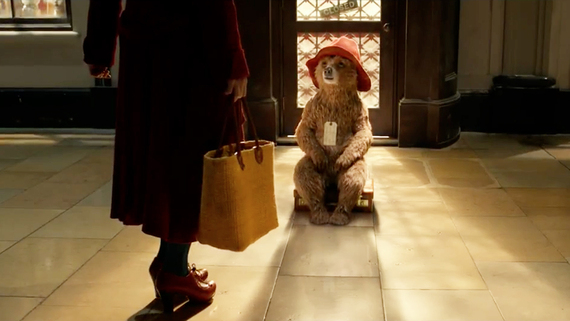 A little bear hoping for a new home stands on Paddington Station in London
The father, Mr. Brown (played by Downton Abbeys' Hugh Bonneville) is skeptical and walks by rapidly, warning his children to stay away and distrusting the immigrant's plea. But the mother, learning that the bear is an orphan and has no home, invites him to stay with the family. Much hilarity ensues as Paddington struggles to cope with the culture and technology of Britain, trying to do the right thing. He is relentlessly polite, helpful and expects kindness and fairness from everyone. Not everyone is welcoming — the neighbor hates immigrants and an evil taxidermist (Nicole Kidman) wants a stuffed bear — but Paddington also meets many friendly people and concludes that the diversity of contemporary London means that 'everyone is different but everyone fits in'.
Geography, my own scholarly discipline appears in the film as a club for exploration with colonial characters part of a 'guild' that documents the world and brings back specimens to be stuffed for museums. Hopefully the contemporary discipline of geography embraces kinder traditions — many of us work on conservation, regret our past association with colonial exploitation, and document and advocate for more humane immigration systems.
The Paddington Bear stories by Michael Bond were some of my favorite bedtime readings as a child growing up in England, and I loved Paddington just as much as that other famous English bear Winnie-the-Pooh. The stories may even have stimulated my early interest in conservation — Paddington is a spectacled Andean bear from the disappearing rainforests of Latin…