It's only January and 2015 isn't looking good for Johnny Depp. His latest comedy, "Mortdecai," has been called possibly the worst movie of 2015, and now it's the actor's biggest flop in years. Just how bad of an opening weekend did the mustache-filled comedy have? A terrible one.
Clint Eastwood's "American Sniper" dominated the box office again, earning $64.4 million this weekend and trampling over "Mortdecai." The comedy, which cost $60 million to make, was expected to gross around $10 million this weekend, but has earned a mere $4.1 million since its release on Friday. That makes the film Depp's worst wide release opening since 1999's "The Astronaut's Wife" — remember that sci-fi thriller with Charlize Theron?
But that's not all. "Mortdecai," which currently has a 12 percent rating on Rotten Tomatoes, is also Depp's worst opening film on more than 2,500 screens ever. To put that into perspective, "The Rum Diary," "Blow" and "Sweeney Todd" all opened on fewer screens than "Mortdecai" and still made more in their opening weekends.
Depp has gone from big box office attraction to major flop over the last several years. The actor's biggest opening weekend ever was with 2006's "Pirates of the Caribbean: Dead Man's Chest," which earned $135.6 million. After the fourth "Pirates" installment, "Pirates of the Caribbean: On Stranger Tides," things started going south for Depp. Here's a look at his box office decline since 2011: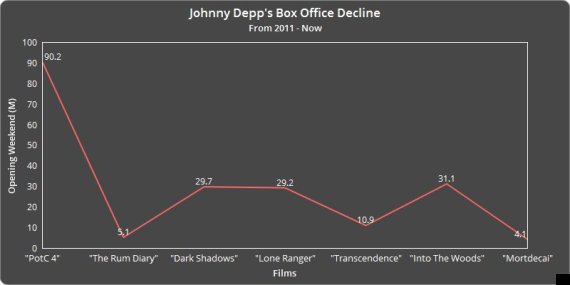 Graph via HuffPost