Entertainment
Nicole Kidman's A Viral Sensation Now, And She's Pretty Happy With That
Nicole Kidman's IMDb page lists six movies on the horizon for 2015, but when HuffPost Entertainment talked to her last week, she was just concerned about making it to "Conan" on time. Bob Weinstein, who produced "Cold Mountain" and co-owns The Weinstein Company, had dropped by the "Paddington" press day and sucked up Kidman's attention. That was just a couple of days after Kidman sucked up the Internet's attention with her widely circulated appearance on "The Tonight Show," during which she informed Jimmy Fallon that she had attempted to woo him a decade earlier. Kidman was just as surprised as the rest of us to see the moment take on a second life online the next day.
Naturally, when HuffPost Entertainment hopped on the phone with Kidman after Weinstein left, we had to ask about the buzzy interview clip before moving on to the first feature-film adaptation of "Paddington," Michael Bond's popular children's book series about the marmalade-loving bear from Peru. Kidman plays Millicent Clyde, a vicious taxidermist on the hunt for Paddington. There's been a lot of that eponymous bear in her house as of late. We talked to Kidman about exposing her own children to the books, acting with an invisible bear and whether we'll see the troubled "Grace of Monaco" on the big screen anytime soon.
Did you expect to wake up last Wednesday and learn that you were a viral sensation?
No, I'm shocked. I've never been a viral sensation in my life. There's always a first, right?
Viral moments in late-night TV usually stem from celebrities playing games or acting in sketches nowadays. But you won everyone's attention with your actual interview. Have you noticed that shift in late-night over the years you've been on the circuit?
I hadn't actually thought of that. I know they did the pre-interview and I didn't mention anything I was going to say.
So Jimmy genuinely had no idea?
He was genuinely shocked. It's crazy. We just had a different view on what that night was. But he's so good at just going with it, though. I'm glad that it was funny at least. It could have really gone pear-shaped.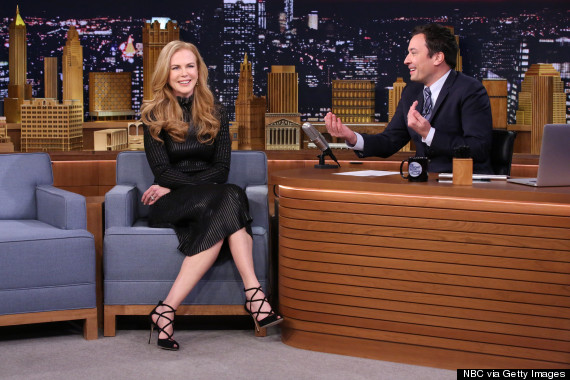 What made you decide to tell the story?
I was sitting at home a couple of months ago watching and I went, "Oh my God, if I ever go on the show I've got to talk to him about that because I haven't seen him since." So that was the first time I've seen him in like 10 years. Crazy. I just thought it would be two minutes and we would move on to Paddington Bear, and we didn't.
"Let's talk about 'Paddington'" is now the best interview segue.
Nobody wants to talk about "Paddington"!
Is there anybody else that you've tried to date that we don't know about?
Oh, stop! No! And I'm going to keep my — no, no, no, I'm done. [laughs]
So let's talk about "Paddington."
Yes, I tried to date Paddington. "Paddington" is fun. It's so nice to be able to promote a movie where you go, "Oh my gosh, this is funny." And it's adorable….