In the light of last week's tragic massacre in the offices of satirical magazine Charlie Hebdo in Paris, I wanted to see how a news-oriented comedy podcast would handle the event. My go-to in such circumstances is The Bugle, with John Oliver and Andy Zaltzman.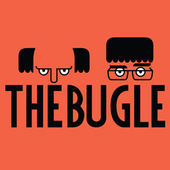 Both are British comedians and longtime friends but, with Oliver's stint on The Daily Show, followed by his celebrated kickoff season as host of HBO's Last Week Tonight, they've teamed up long distance across the Atlantic for years to keep The Bugle alive.
They lead off this episode with the attack as their top story.
Zaltzman comments on the element that news outlets expressed "their defiance of the terrorists" by NOT showing any of Hendo's controversial cartoons while displaying video footage of the terrorists killing a policeman and shots of the blood-stained crime scene. Oliver is as outraged as his podcast partner, putting a wry but angry spin on his commentary.
They also take delight in pointing out one unintended consequence: Charlie Hebdo's print run for the next issue is jumping to 1,000,000 from a normal figure of about 30,000.
The back half of the show deals with the dropping price of oil, traffic laws in Russia, the 2016 elections in the U.S., and the 800th anniversary of the Magna Carta.
While the news is often unpleasant, I can count on The Bugle to at least lighten the burden of it all.
—
Also listening to: The GameOverGreggy Show with guest Kevin Smith; and The X-Files Files with guest Matt Gourley
—
This review originally posted as part of This Week In Comedy Podcasts on Splitsider.com.