Entertainment
Rumi, Vedic Wisdom, and "Happy Days" Converge in Emad Asfoury's Duality: Featuring Deepak Chopra, Sarah Lynn Dawson, Don Most, and Jon Foo
"You are not, in fact, the sinner or the saint; you're the infinite consciousness, whose destiny is to play an infinity of roles."
Thus spake Deepak Chopra — venerable healer and space-age wise-man — offering his voice to Duality: the new motion picture written by and starring Sarah Lynn Dawson, directed by Emad Asfoury, and executive produced by Peymaneh M. Rothestein. The production, best described as a spiritual quest, also stars international actor-martial artist Jon Foo. Plus, in an altogether unexpected and delightfully refreshing turn, the project features actor-singer-director-multihyphenate Don Most (of Happy Days fame) as a seasoned sage — well, in one of the worlds represented, anyway.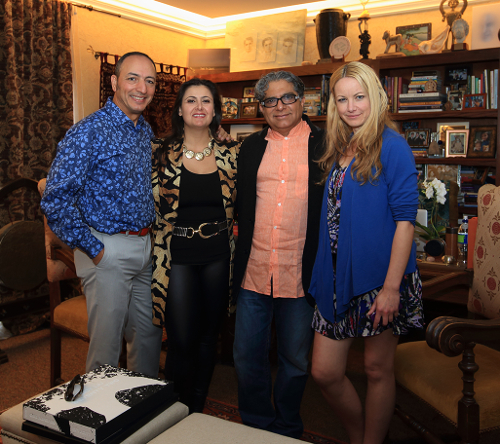 Emad Asfoury, Peymaneh Rothestein, Deepak Chopra, Sarah Lynn Dawson
Nothing is simply as it seems in Duality (it tends to be more), and while of course the path of a young man in search of self is one of storytelling's ancient and universal motifs, it's brought to life (or: to lives, plural) with smashing visual poetry by Mr. Asfoury: a master photographer turning his skills to the moving image. Ms. Dawson also includes a fair share of popular Persian poet Rumi. Call it a Rumi with a view? While Hollywood dependably delivers "high-concept" movies, Duality explores one of the highest concepts: Who are we, really? It's gentle yet provocative — no mean feat.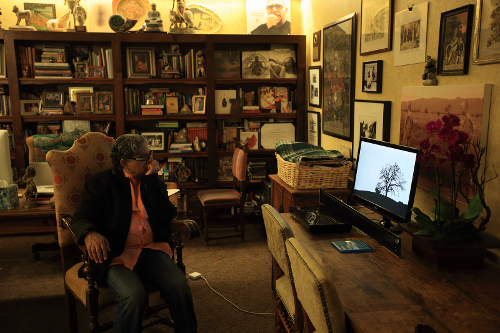 Deepak prepares to narrate Duality
It was my great pleasure to discuss making movies, hopes, dreams, and life itself with the cast and creators of Duality. In the grand tradition of global gurus, Dr. Chopra proved elusive, however his imprimatur (and velvety voice) are all over Duality — and I'm sure I'll catch up with him, y'know, in infinity or eternity or somewhere like that. Meanwhile, enjoy our talks!
First up, Executive Producer Paymaneh Rothestein — who made this production possible:
Don Most. You grew up with him. But there's much more to the story. Dig it:
Sarah Lynn Dawson. She hangs out in various universes. Happy Birthday!
And the man with the movie camera: director Emad Asfoury:
Pretty cool, eh? I think so. You can venture further into Duality via the link below — and expect to see and experience much more from the formidable forces behind it. (I have it on good account from Mr. Asfoury that they've just returned from a retreat — or is it an advance? — to the Chopra Center in San Diego, so they're charged up and ready for action.) Ms. Dawson will be seen in several films in 2015. You need to experience Mr. Most crooning the classics. And the crew are hard at work on dark comedy WTF (Welcome to Fresno), Mr. Asfoury's next directorial effort, A'am Israel, and an expansion on Duality — currently called Awaken.
Do these people sleep? It's all in a day's work — or a night's — for these minds questing through darkness and light. Tidily, Dr. Chopra offers another reflection to tie these myriad concepts…