Entertainment
Thirty Years Of Thundercats: Five Things You Don't Know About The Cartoon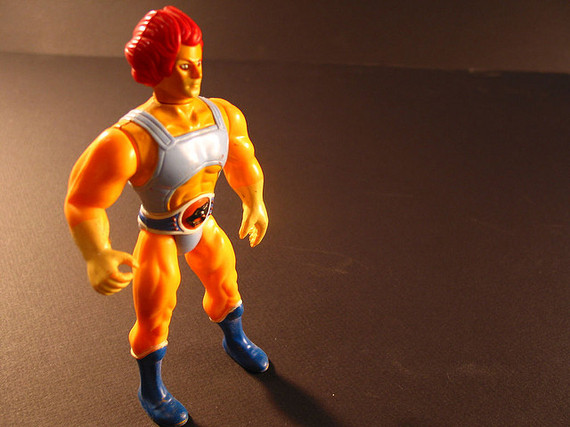 Photo via Flickr user bbaltimore
Today marks the thirtieth anniversary of the ThunderCats television show debuting on television. Along with He-Man and the Masters of the Universe, G.I. Joe and The Transformers, the series and it's accompanying toyline were popular with boys (and their cool sisters) who grew up in the 1980s.
From first sight (or as ThunderCats leader Lion-O would say, "sight beyond sight") I was hooked. The series' premise is ridiculously simple: a small group of survivors from the dead planet Thundera onto the planet Third Earth. From there they encounter all kinds of new characters: the cute robot-bears the Berbils, the enigmatic galactic samurai Hachiman and the evil mummy Mumm Ra, who would become the lead villain of the series.
And I know that I wasn't the only one. Thirty years later, we still see people wearing clothes with art from the series. Family Guy has made countless references to the show. Nelly and Diddy even rap about the show in the song "Shake Ya Tailfeather."
So for today, take a few minutes out of your day to scream the ThunderCats' battle-cry "ThunderCats Ho!" and watch clips of their long suffering and somewhat annoying friend Snarf as a way to remember your childhood. Here are five things that we learned about the ThunderCats.
The ThunderCats Are Related To Rudolph The Red Nosed Reindeer
In a weird kind of way, this is true. The original concept of ThunderCats–cat like people–was created by Ted Wolf back in 1981. This idea was then pitched to the television production company Rankin-Bass (who brought us Rudolph and Frosty the Snow Man, among other classic holiday television specials) for development into the cartoon show that we wound up seeing. Several people were involved in shaping the property, including designer Mike Germakian, who came up with the logo and many of the character designs, and cartoonist Leondard Starr who is responsible for writing several key episodes and the series bible, which explains the characters, their world and everything in it. You can actually view the original press kit here.
The Show Featured A Visually Impaired Hero
In 1986, the character of Lynx-O was introduced to the world of ThunderCats. What made him unique wasn't that he was another feline hero, but the fact that he was blind. According to the television show, he lost his sight in a fiery accident, but that didn't stop him. Lynx-O was portrayed as being not only one of the wiser Thundercats, but one of the better combatants. He also introduced children of the 1980s to the Braille language; the characters used something called a "Braille Board" to not only read and use computers, but to pilot the flying ThunderStrike vehicle.
That Voice Sounds Familiar
If you ever wondered if the character voices on ThunderCats sounded similar, you were right. Lead by Larry Kenney (the voice of Lion-O), the voice acting throughout the series was handled pretty much by eight different actors. Earle…